The PCDI is organizing two courses to help final year Ph.D. students and postdocs to stimulate their career development. Have you thought about exploring opportunities outside academia? Then these courses are of interest to you.
Course 1. Employability outside academia (June 21 + Sep 13 + Oct 18)
Employability Outside Academia is a targeted training for postdocs and final year Ph.D. students who want to make the transition out of academia. In 3 x 1 full day participants learn how to make themselves professionally attractive to future employers and work towards the job that suits them best. The course in English is organized for the 11th time and starts on June 21. See the course annoucement for the dates: PCDI flyer. Extensive information can also be found online through the following link information about Employabity Outside Academia and read what participants say.
Postdocs and PhD students of the KNAW Institutes can participate for free, KNAW pays for the course.
Course 2. Masterclass Strategy Consulting (October 22)
Looking for opportunities outside academia where you can use your qualities to the best as a Ph.D. graduate? Are you ambitious, smart and creative? And would you like to continue using your strong analytic skills in your next job? Join the masterclass Strategy Consulting by PCDI & Gupta Strategists! Find out what it is like to work as a strategy consultant in Health Care and discover whether there is a consultant in you! The full day masterclass will be held on October 22. Extensive information can be found online through the following link Masterclass Strategy Consulting.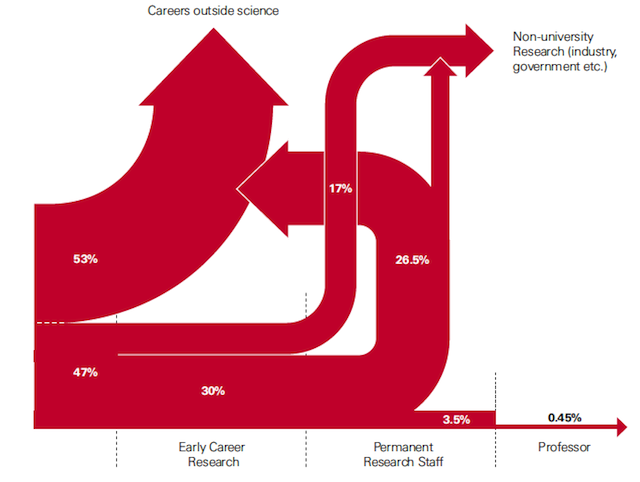 Image source: Royal Society, The Scientific Century: securing our future prosperity, 2010.